3rd Annual Volunteer Afternoon at the Alameda County Food Bank: Saturday, December 15, 2007 1-4pm

2nd Annual Volunteer Afternoon at the Alameda County Food Bank: Saturday, December 3, 2005 1-4pm
Notes:
This year we will meet at their warehouse off Hegenberger Road
You may want to wear gardening type gloves (this was helpful last year)
Orientation begins around 1:05, so please be prompt.
Closed-toed shoes only, ie no sandals or flip-flops.
---
Tuesday, October 18, 2005 - Ivy Alliance Community Service Event. Details on the Ivy Alliance page.
---
The EBSC volunteered at the Alameda Country Community Food Bank on December 4th, 2004
How many Smithies does it take to stack a row of cans? Eight of us met at the Alameda Country Community Food Bank warehouse on Saturday afternoon, December 4th, to volunteer. We sorted crates of donated canned food into shopping carts, then stacked the cans on the shelf of the "store" by category, for people from other organizations to "buy" for family food bag distribution, soup kitchens, etc. A bunch of other people were there from a school and from a software company... maybe next time the EBSC could cover the whole three-hour shift!
Alameda County Community Food Bank's mission is to eliminate hunger in our community. As the largest distributor of donated food in Alameda County, they have a large warehouse and have volunteers screen and sort/box donated food for pick up by our member agencies. There is no direct contact with individuals in need; no cooking or serving.
Please feel free to call Mary Schoen, Volunteer Manager, at 510/834-3663 x308 or
mschoen@accfb.org
with any other concerns or questions.
Friends and relatives welcome (but must be over 10 years old).
Thank you!
---
Tea with Women's Initiative for Self-Employment


The EBSC/Womens Initiative for Self Employment tea on Sunday, April 4, 2004, brought warmth and direction to a chilly, grey afternoon when everyone was catching up with the time-change. The Joyce Gordon Gallery provided an elegant and beautiful setting for the artistic pastries and teas (with real tea-cups!) catered by two Women's Initiative graduates.
Smith--and one Bryn Mawr--alumnae had a chance to meet other alums and talk with Women's Initiative staff and graduates before and after the presentation: Karuna Jaggar (Smith '95 and WI staff) talked about her experience working internationally with women's micro-enterprise and the important role it plays in women's empowerment and described her own dedication to working in our local community. Women's Initiative Research & Evaluation Manager Marion Daub provided striking statistics about the effectiveness of the Women's Initiative business-training program, and Asara Tsehai, an articulate graduate of the WI program several years ago, entertained us with an anecdote about how her son has learned financial literacy through their discussions at home and has already begun his own entrepreneurial efforts, which indicates the far-reaching effects of the program. Helen Matthews, Volunteer Coordinator, and Julie Abrams, Executive Director, described numerous and varied ways in which we can get involved with the organization, and those attending were quite enthused!
One of many ways to fulfill our role as ambassadors of Smith College is to participate and be seen in our local community. Organizing members are delighted to present this event as a way for Smith to have an active and growing presence in our community, to show our commitment to the community at large--and especially to pursue our ambitions and play a role in making that possible for all women.

2007: We donated a trunkful of cans collected at our potluck in October, and followed up with packing boxes at the Alameda County Community Food Bank's warehouse in Oakland. Smithies of all ages, plus some partners and children, spent the afternoon putting together a variety of donated foods into boxes for distribution. The ACCFB delivers food to their community member organizations who in turn dispense food to residents. During our snack break, Rachel Lee Holstein '94, who works with corporate development outreach for ACCFB, talked to us about the educational side of their work, which is very impressive, successful, and inspiring. They have programs from those that help people who qualify for food stamps to get them (especially helping non-English speaking residents) to efforts in Sacramento to help design programs to help fight poverty in Alameda County and beyond.

And, of course, they collect food from stores, individuals, and Central Valley farmers who have extra produce! The food bank needs food all year long, not just in winter -- in fact, during the summer when children are not getting school lunches, there is significant need for emergency food supplies. As computers help to streamline the food supply chain and reduce packaging errors (like labels upside down), rejected and extra food sources are slim and the food bank has to buy more food to meet the needs of their members: community organization serving our county's residents who need food (most often children and the elderly with fixed incomes).

If you can contribute time, food, or money, the ACCFB will certainly put it to good use in a friendly and efficient manner! See How to Help.
---
Suggested future community service activities:
Project Open Hand (dates to be set)
Habitat for Humanity
If you have other ideas or are willing to coordinate an event, email ebsmithclub@yahoo.com!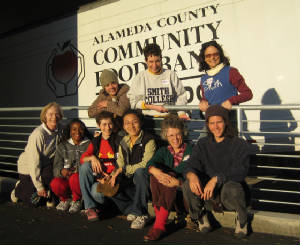 Directions:
Take 980 to 880 South.
Take 880 South toward San Jose.
Take the Hegenberger Rd. Exit (Westbound). (stop sign at the end of the exit ramp)
At the stop sign, Turn right on Hegenberger Rd.
Turn right on Edgewater Dr.
The Food Bank will be on your right at 7900 Edgewater, just past Oakport St.
We did this event last year too!




The following information will give you some idea of what to expect during our volunteer shift:
WHERE:
The warehouse is located at the West Oakland Army Base, 700 Murmansk Street, Suite 69 (see the map and directions on their web site,
http://www.accfb.org/contact_directions.html
NOT Mapquest. The warehouse is close to the West Oakland BART station). You will need to stop at the guard shack upon entering and present ID (you don't need to do this during the weekdays). Please enter the Food Bank building from the ramp to the left of the building.
WHO:
Food Sort volunteers work in groups of 30-40 per shift screening, boxing, and shelving food donated from supermarkets and through food drives. Volunteers may also be labeling, bagging or boxing up large bins of loose product donated by manufacturers. Seasoned warehouse volunteers and staff will be floating around to answer any sorting questions you may have.
WHAT TO WEAR/BRING: Please wear layers of "work" clothes (you will get dirty, and the warehouse is often chilly) and comfortable, closed-toed shoes, as you will be on your feet for most of the shift; you may also want to bring work gloves and an apron (we can provide latex gloves and plastic aprons). Do not bring valuables into the warehouse; there will be no secure place to store them. Beverages and snacks will be supplied throughout the day. Children under 10 years of age are not allowed in the warehouse for safety reasons.
---

Thanks to:
The Joyce Gordon Gallery
406 14th Street, Oakland, CA


Sin Pastry Studio

Mythical Teas
Women's Initiative staff
In the last 15 years, Women's Initiative has provided over 10,500 economically disadvantaged women with entrepreneurial training, technical assistance, and financial services. As a result, Women's Initiative clients create jobs, access the mainstream economy, and increase their economic self-sufficiency.
We look forward to more opportunities for Seven Sisters alumnae clubs to demonstrate a strong presence in our communities through education, volunteering, and philanthropy.
---
Organizing committee:
EBSC
Jennie Abbott '95
Karuna Jaggar '95, Client Services Coordinator, WI
Kathy Orsini '79
Women's Initiative -
www.womensinitiative.org
Amber Guillory, Development Assistant
Jeannine Esposito, Alameda County Projects Coordinator