---
2009-10 club activity notes
Monthly book club meetings are written up on the book club page.
Annual potluck October 25, 2009
Many thanks to Gretta Mitchell for hosting a well-attended (and delicious!) potluck of around 75 people at her house! The weather was warm enough that we could spread out on the patio and balconies for food and conversations before 50 or so crowded into the living room for the formal part of our meeting when we officially voted in Susan Strom '04 as our new club president and welcomed new AAC Tyreen Turner. Thanks Mimi for taking the donated food to the Alameda Food Bank.
Young Alum Events 2009-2010
November 20th ~ Young Alums happy hour at Jupiter in downtown Berkeley (easy BART and bus access!)

Look for us upstairs, we'll try to have a Smith sign or sweatshirt visible wherever we are.
Email the club be added to the Evite list for future events. Young is your own definition!


---
2008-09 club activity notes
January 17, 2009 ~ Docent-led tour of the Afghanistan exhibit at the Asian Art Museum.
Monthly book club meetings are written up on the book club page.
Young Alum Events 2008-2009
Friday, July 11, 2008 - Best of the East Bay Street Fair plus you also get free admission to the Oakland Art Museum's "Cool Remixed Bay Area Urban Art + Culture Now." To celebrate the winners of the Best of the East Bay, the Express is throwing the biggest performing and visual arts party in the East Bay at the Oakland Museum of California. This event will feature an Amoeba Music main stage and a Kids Zone sponsored by Chabot Space & Science Center. Headlining bands include Flipper, The Uptones, Dyloot (Deep Voices), Destroyer (the Kiss tribute band, not Dan Bejar), Monarchs, The Whoreshoes, HOTTUB, Mike Glen Dinning, Amoeba Music artist Brandi Shearer, DJ Malachi, The Kev Choice Ensemble and many more. This event is hosted by MCs Bukue One and Buttercup (KALX).
Annual potluck November 9, 2008
Many thanks to Anne Adams '73 for hosting a well-attended (and delicious!) potluck of around 75 people at her house, and for taking the donated food to the Alameda Food Bank afterwards.
---
2007-08 club activity notes
Congratulations to seven bay area members of the class of '05 who rode the AIDS Life Cycle event in June! Thanks to all who supported them and the effort to eradicate AIDS.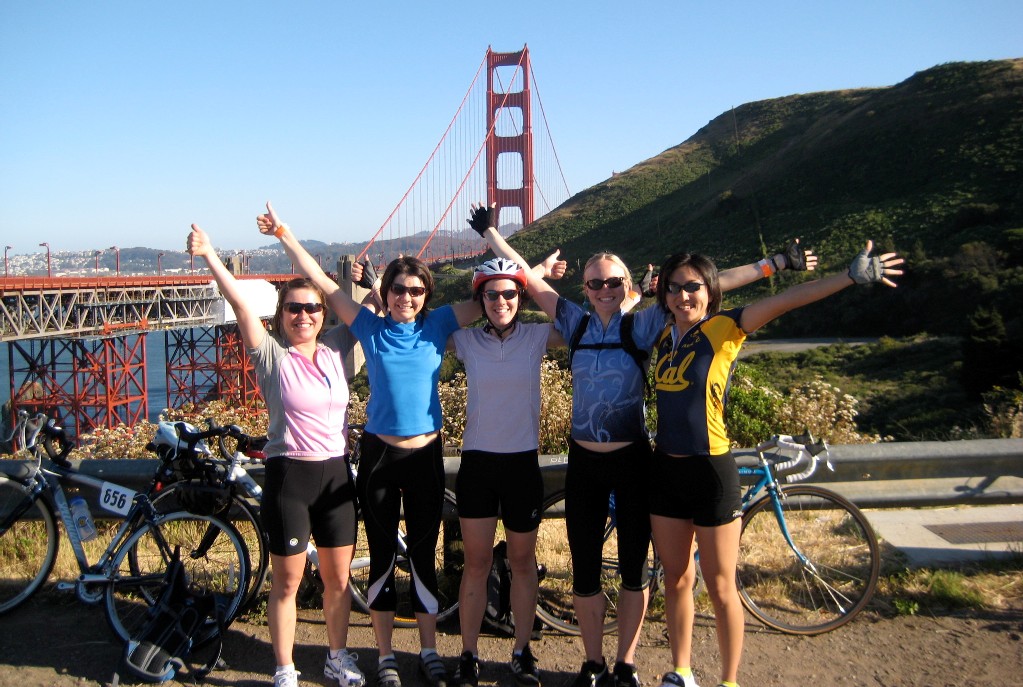 Young Alum Events 2007-2008
Friday, June 13, 2008 - Everyone loved Jupiter so much the last time we were there, that we thought this was the perfect way to kick off the summer and celebrate Friday the 13th!
Saturday, April 26, 2008 - The documentary film Ask Not which was associate produced/assistant edited by a fellow Smith alum is premiering this Saturday at the Castro and it seemed like a great idea to use our precious time together to support each other's work.
Saturday, March 29, 2008 - A hike in TIlden park was planned, but cancelled due to rain. Another time!
Friday, February 29, 2008 - Leap year at the Conga Lounge in Oakland's Rockridge neighborhood.
Smithies from both sides of the bay welcomed the new year with a happy hour at Dalva in SF on Friday, January 25, 2008.
Zucu, Kate, and Tamisha organized a very successful turn-out at Jupiter on November 9th, 2007, and a night on the (oak) town with the first-Friday Art Murmur December 7th. A few Smithies met up at Cafe Van Kleef after work then went to dinner at Pho 84, while another small band trooped around galleries in downtown Oakland: Mercury 20 Gallery (Grand/Broadway, also the shop and another gallery next door) and NoneSuch Space, 2865 Broadway, 2nd floor. They all met up to chat on a street corner before heading home after a lovely evening!
Book Discussion with Dean Jennifer Walters, March 19, 2008
We had a terrific turnout of around 35 people for an interesting discussion of Joan Didion's
The Year of Magical Thinking
lead by Jennifer Walters, Smith's Dean of Religious Life. Read more on the
book club
page.
Annual potluck October 28, 2007
Many thanks to Esther Thal for hosting this year's potluck! And to Aiko for organizing it to run so smoothly. It was a lovely warm evening to be outside socializing, meeting, and reconnecting with local Smithies of all ages -- around 50 people attended, alumnae, some partners, and a couple of children (one babysitting the other)!
In addition to the formal election of the club board, the Young Alum co-ordinators got inspired and started planning events, people signed up to volunteer at the Alameda Food Bank, and 70 lbs of food was donated for the Food Drive for Alameda County Community Food Bank (Kathy delivered it).
Fall '07
The school-year started off with a tour of the Asian Art Museum led by docent Anne Adams on Saturday, September 15th, 11am.
Chinese art and culture are hot topics right now given China's re-emergence as a major world power in the 21st century as well as the upcoming Beijing Olympics. The Asian Art Museum's 45 minute "Arts of China" tour examines approximately 15 important works in the museum's Chinese galleries. In doing so, tour group members will gain a greater understanding of the breadth (thousands of years), variety (jades, ritual bronzes, porcelains, etc.), and recurring themes in Chinese art.
Fellow Smithie Anne Kahn, who has just finished the Museum's 3+ year docent training program, led the tour.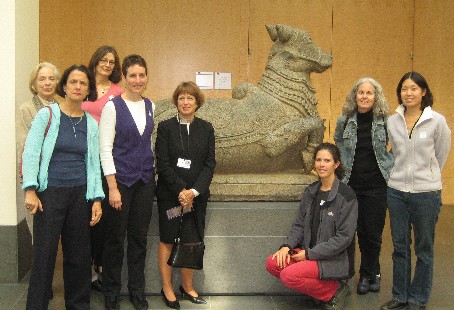 Nancy, Jane, Lynne, Sherrill, Anne, Jennie, Mary, Jennifer (several others not pictured here)
Summer Theater Outing: Romeo and Juliet
Thursday, August 9, 2007 at 8pm at Chapel of the Chimes in Oakland, at the end of Piedmont Avenue.
For our annual summer theater outing, the East Bay Smith Club attended a Woman's Will production of Romeo and Juliet:
"After generations of hatred breeding still more hate, an improbable, fragile, but true love springs forth. Can a society learn from its losses and emerge a better place? Woman's Will places its unique mark on Shakespeare's timeless tale."
We had a picnic on the lawn of the cemetery before the show which was in the chapel of the beautiful building designed by Julia Morgan. The site has "beautiful gardens, alcoves, stairwells, fountains and chapels rising into vaulted ceilings and illuminated by natural light" and is open to the public at the summer solstice when local performance artists appear in different parts of the building. It's well worth a visit!
---
2006-07 club activity notes
03.26.07
We had another small gathering of Smithies and friends for "happy hour" (supper) on Friday 3/23 at the Crepevine, and realized that we need to plan or advertise differently because so few people attend.

03.23.07AASC 125th Anniversary Book Club with Professor Susan Van Dyne - Wednesday, March 21, 2007
To celebrate the Alumni Association of Smith College's 125th Anniversary, the AASC sponsored a faculty guided reading program. As part of this program, the East Bay Smith Club hosted professor Susan Van Dyne for a lecture and discussion of the book
Stone Diaries
, by Carol Shields at Aimee Fisher's in Piedmont.
We had a terrific turnout of more than 40 alumnae at Aimee's house for a lively and interesting discussion. Although the group was large, professor Van Dyne managed to incorporate audience involvement by passing out some questions and having us discuss them in smaller groups. As various attendees mentioned, it felt quite like being back in a class at Smith.
(This event was not limited to book club members.)
02.24.07
We had a small gathering for happy hour on Friday 2/23, a couple of regulars delighted to greet a Smithie new ot the area! Hope to see more folks out next time.

02.14.07
Book club
met at Jane's house in Oakland on February 13th to discuss
Persepolis: The Story of a Childhood
, a graphic memoir by Marjane Satrapi.
01.29.07
Around five Smith alums plus sweeties, friends and children had a lovely time upstairs at the Crepevine on Friday night 1/26. Join us next time!
01.25.07
San Francisco Smith College Club Tea
Smithies all around the Bay Area gathered for the 6th Annual San Francisco Smith College Club TEA! They mingled and munched with fellow alumnae and prospective students, heard from the past years' profilees from our newsletters. Annual Smith Tea Evite
East Bay Student Recruitment Tea
Our recruitment co-chairs and Betsey Warrick hosted an event for prospective students to meet current students and recent graduates to get to know more about Smith. We also made cards and care packages for current Smith students! Sunday, January 21st at 2pm.

01.12.07
Book club
met at Sherrill's house in Oakland on January 10th to discuss Ariel Levy's
Female Chauvinist Pigs
.
11.30.06
Book club
met last night at Betsey's to discuss Zadie Smith's
On Beauty
.
Fall Potluck
Sunday, November 12 was the annual fall potuck at Gretta Mitchell's lovely Berkeley home. We had a terrific turnout, and good food and lively discussions were enjoyed by all. Catherine Veramo's presentation on Identity Theft gave us all helpful guidance about this problem. A few key points to remember:
1. Buy a shredder and use it!
11.02.06
Book club
met at Nancy's house in the Berkeley hills on September 20th to discuss
A New Life
, by Bernard Malamud, and at Patricia's house in the Oakland hills on October 23rd to discuss the blog
Baghdad Burning
.
08.13.06
Each year the bookclub reads a play and goes to see a local production. We went to see Night of the Iguana by Tennessee Williams on Saturday Aug 12, 2006 at the Live Oak Park Theater in Berkeley. In this play, "the self-loathing, sexually angst-ridden Reverend T. Lawrence Shannon seeks refuge in a hidden Mexican hotel." Our group included several Smithies plus friends and partners, and we quite enjoyed the show. Many of us had read the play before seeing it, and from brief conversations at intermissions and on the way out, the characters and relationships on the stage were much more complex than the written script had indicated.
07.27.06Chick lit to chick flick
. We had a small outing to see
The Devil Wears Prada
at the Grand Lake Theater on Wednesday, July 26, 5pm, followed by dinner at Zza's (celebrating Sherrill's birthday too!).
We had such a lively discussion of "chick lit" at our December '05 bookclub meeting, we thought it would be good silly summer fun to go see the movie--which was quite different from the book. We agree with Lynne who said, "It's a piece of fluff, but Meryl Streep's performance is great." So was her fashion! If the first chapter of the book put you off, just watch the movie (or push through--it gets more engaging).
---
2005-06 club activity notes
06.23.06
Book club
met at the big table in Tully's coffee shop in Berkeley to discuss
Housekeeping
by Marilynne Robinson on June 20.
05.25.06
Three of us (plus one child) met for Smith happy hour Thursday, May 25 6-8pm, at
Pacific Coast Brewing Co.
, 906 Washington St. in downtown Oakland (1 block south from the 11th St. exit from Oakland City Center BART station, at 9th/B'way you should see the patio diagonally across the Smart & Final parking lot).
Lies and the Lying Liars Who Tell Them: A Fair and Balanced Look at the Right
. See the bookclub page for details and a write-up of the discussion about
Random Family
last month!
05.08.06
This week's
Chronicle of Higher Education
article
At Smith College, a Mission to Serve the Underserved
is available online for non-subscribers at the address of this link through 5/13/06. "Without fanfare, one of the few remaining women's institutions offers financial aid and personal support to needy students," says the subtitle; the article describes Smith's commitment to funding accepted students' education, and discusses the experience of socio-economic diversity on campus. The article is always available to Chronicle subscribers at this address: http://chronicle.com/weekly/v52/i36/36a01401.htm
04.26.06
Book club's
large circle discussed Adrian Nicole LeBlanc's
Random Family: Love, Drugs, Trouble and Coming of Age in the Bronx
on April 25th at Jane's house. Great discussion ensued, and we recommend the book which reads like a novel yet is thoroughly researched non-fiction.
03.28.06
On Saturday afternoon, March 25 from 4-6pm, Carolyn Dundes hosted Smithies for tea and the opportunity to share our ideas about the future of Smith College with President Carol Christ. The discussions with alumnae over the past months have covered how our Smith experience influences our life, work, and values, and the conversations highlight the following:
What distinguishes a Smith education?
What intellectual abilities should Smith strive to develop in women of the 21st century?
How can we shape the college's future so a Smith education continues to produce generations of remarkable women?
Other Bay Area events with President Christ were held in Palo Alto, San Francisco, and Sacramento.
Discussion notes for the Berkeley gathering should soon join notes of the other alumnae discussions posted at
www.smith.edu/future/shaping/notes.php
.
If you weren't able to attend but have something to share, you can post it here: www.smith.edu/future/shaping/join.php
02.13.06
Thanks to Aiko for coordinating club members to see
W;T
at the Town Hall Theatre in Lafayette, Feb. 19, at 7 p.m. "W;t" is a Pulitzer Prize-winning play by 1983 Smith graduate Margaret Edson. The Town Hall Theater in Lafayette presented the play in February, in a new production directed by Jake Witlan and starring Scarlett Hepworth.
Aiko reported that the production and the casts were excellent, and that the play was very intense, clever and very emotional. There were just about 10 alums; 6 or 7 Smithies. There was a reception afterwards where some of the few "Far" East Bay Smithies (Livermore & Pleasanton), including Aiko, enjoyed meeting one another.
02.06.06
Hilary Bryan '89 performed 1/27 at the Hillside Club in Berkeley and 2/5 at ODC in San Francisco (where at least two EBSC members were in the audience of her interactive piece). See
http://www.hilarybryan.com/SacredSpaces.htm
for details.
01.26.06
We went to tea!
Several East Bay Smithies attended the 5th annual San Francisco/Marin Smith Club afternoon tea on January 22nd, complete with silver teapots, china cups, and tasty cookies and snacks. It was a full house, with many alumnae and some prospective students as well. We heard from three Bay Area alumnae featured last year in the SF/Marin club's newsletter--see their website to read the profiles yourself:
www.geocities.com/sfmsmithclub
.
Photos coming soon.
01.20.06
Filling Jennie Abbott's living room (lots of readers lately! yay!),
book club
discussed short stories on January 19th.
12.09.05
Filling Maggie Seeley's living room,
book club
discussed several "chick lit" books on rainy December 1st.
Saturday, 12/3 nine of us, from class of '59 through '05, sorted food donations at the Alameda County Food Bank warehous in Oakland. See the Commuity involvement page for photos.
11.15.05
We had a great turn-out for our annual fall potluck at Anne's in Piedmont on November 13! Alumnae classes ranged from 1946 to 2005. Delicious food, fabulous conversations, and a showing of Smith's latest promotional video made for a very enjoyable evening. Many thanks to Anne for hosting and serving as events coordinator, and to the EBSC board elect.
10.30.05
Tuesday, Oct 18th: Ivy Alliance Community Service Event. Details on the
Ivy Alliance page
.
Mountains Beyond Mountains: Healing the World: The Quest of Dr. Paul Farmer
.
9.23.05
Book club
discussed
Kettle Bottom
in September, the first-year reading assignment. Club board meeting.
---
2004-05 club activity notes
4.14.05
Book club
discussed the mysteriously titled and vast topic-covering
White Teeth
by Zadie Smith at Betsey Warrick's on 4/13.
3.21.05
Carol Christ spoke to a group of about 25 alums of all decades in the charming Sproul room of International House (UCB campus) on Thursday, March 17. She discussed the Engineering program in depth, how it has developed and where it's going --across Green Street in a few years when the new, eco-friendly science center is built! She also answered the questions on diverse topics. She spoke to another group on Friday, March 18 in San Francisco.
03.09.05
Book club
discussed
Anything You Say Can and Will Be Used Against You
, a collection of stories about female police officers in Baton Rouge by Laurie Lynn Drummond at Sherrill Lavagnino's on 3/8. We had a special guest, Jonna Watson of the Oakland police force, as well as our regular reader, Detective Catherine Veramo '93, who provided real-life stories about policing here and now.
2.17.05
Book club
discussed
Lost in Translation
, an autobiography by Eva Hoffman that explores the affect of language on experience at Kathryn Kasch's on 2/16.
1.21.05
Book club
discussed
Live, Laugh and Learn: Tales of Tumultuous Times
Ros McIntosh, at Catherine Veramo's on 1/20.
12.07.04
How many Smithies does it take to stack a row of cans? Eight of us met at the Alameda Country Community Food Bank warehouse on Saturday afternoon, December 4th, to volunteer. We sorted crates of donated canned food into shopping carts, then stacked the cans on the shelf of the "store" by category, for people from other organizations to "buy" for family food bag distribution, soup kitchens, etc. A bunch of other people were there from a school and a software company... maybe next time the EBSC could cover the whole three-hour shift! For related EBSC events see the
Community involvement
page.
11.18.04
Book club
discussed
The Curious Incident of the Dog in the Night-Time
by Mark Haddon at Maggie Seely's on 10/17.
10.18.04
Book club
discussed
The 9/11 Report
at the Betsey Warrick's on 10/15. It's a more interesting read than you might expect!
10.04.04
Many thanks to Anne Adams for hosting our Annual Potluck on Sunday, October 3 at her home in Piedmont. About 20 alunmae and partners enjoyed the house and grounds, the delicious food, and the company. Meeting new and old faces, those gathered discovered links from career to family to location to Smith class connections. During the requisite formal meeting, we heard updates about the club, solicited volunteers to help with college recruiting, and made plans for the next community service activity in December, with the Alameda County Food Bank.
09.24.04
Book club
discussed
The Gangster We Are All Looking For
by Lê Thi Diem Thúy at the Claremont Hotel on 9/23.
08.16.04
Dartmouth alum group organized a private showing of CYMBELINE, Shakespeare's Romantic Comedy in the Fairy Tale Tradition on August 8th.
Book club
discussed Khaled Housseini's
The Kite Runner
at Nancy Spaeth's.
07.25.04
Book club
had it's annual theatre event on July 16: Eve Ensler's
The Good Body
at the Geary Theater.
Please join us for an event, or let us know if there's one you'd like to organize or announce!